3 in 1 Infrared Ultrasonic Cavitation Slimming Machine
Regular price $64.95
/
Order now to get it between and .
3 in 1 Infrared Ultrasonic Cavitation Slimming Machine
The Best Solution For Fast Results,

Over 1.5 Million Worldwide Users Can't Be Wrong
We are all in the same boat. Weight loss pills, diet plans, gym memberships, gym instructors… we all pay incredibly overpriced fees and amounts. And, of course, there is a lot of time and discipline involved as well. Thankfully, there is a faster, easier and more efficient solution. A US-based startup has developed an innovative and affordable device that changes the way you can tone down, get rid of fats and firm your skin – with visible results in just 3-4 days!
Introducing 3 in 1 Infrared Ultrasonic Cavitation Slimming Machine:
This device is a new patented slimming solution that proves fast results and is incredibly easy to use. Using a non-invasive technology that was developed by a group of renowned scientists, the UltraSonic Lift Massager is by far the most efficient slimming method to date.
The UltraSonic Slimming Massager also enhances skin textures, stops wrinkles, helps fight fatty areas and tightens your skin. Your body regulates internal secretion and accelerates fat consumption
Infrared Ultrasonic Cavitation Slimming Machine

Features:
High-frequency micro-vibration enhances cell dynamics and promotes blood circulation, increases muscle base temperature, accelerates local fat dissolution, and achieves slimming results
Perfect products for loosing skin, improving skin, activating the cell, accelerating cell reproduction and cell membrane reproduction, written the skin,

reducing spot and melanin
A necessary device to

remove stretch marks for ladies who need body care and shape built. A nice assistant for mommy after pregnancy who need to lose weight in the waist and abdomen
Far Infrared helps to

relax your skin

,

promote blood circulation and increase metabolism
EMS for

skin tightening after cellulite and fat breaking down; Lifting up, for example, faces, breasts, hips and etc
How does 3 in 1 Infrared Ultrasonic Cavitation Slimming Machine
work?
The massager produces ultrasonic waves and infrared heat. Blood flow is enhanced underneath the outer skin layer. The result is that fat deposits break down and can easily be eliminated by the body naturally. Pain is heavily reduced in a natural way as well.
The microcurrent technology which is involved and patented plays a large role. Massages using this technology stimulate your muscles with passive movement. This movement consumes (burns) fat, sugar and carbohydrates of the surrounding tissue. Regular muscle movement consumes 60-70 joules per second. The UltraSonic Lift Massager lifts this number to a whopping 3000-4000 joules per second.
Effective 3 in 1 Slimming Device
EMS
5 Modes of EMS (Tapping, Massage, Knead, Scrapping, Slimming), 5 intensity selections, freely choose one make you feel comfortable.
Infrared
Infrared heat sensors penetrate deep into the skin, so you can feel the heat generate and soothe.
The infrared ray can restore the elasticity and activate the cells more thoroughly.
Ultrasonic
Ultrasound technology helps slim down fat by decreasing waste around fatty tissue and tightens skin.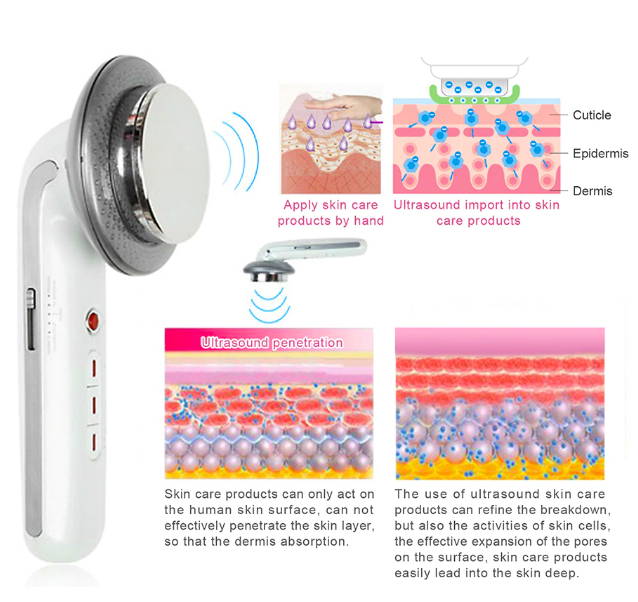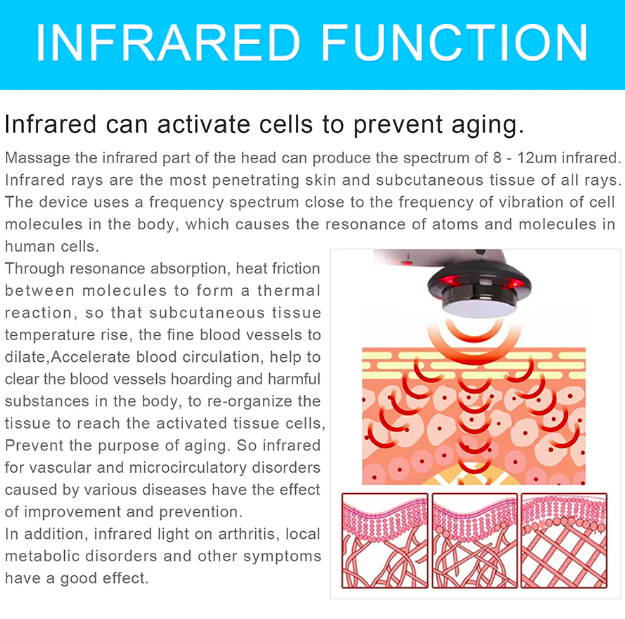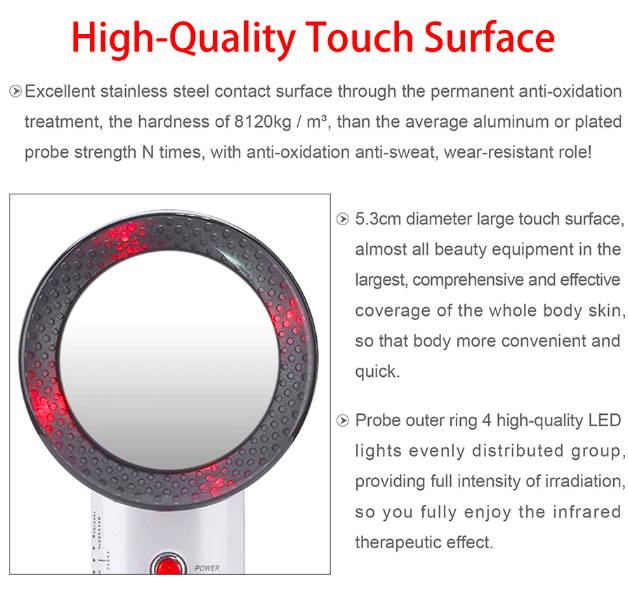 How to use:
Cleanse your skin before application.

Spread body shaping product on your skin evenly ( apply the product separately in each section to prevent it being air-dried and result in an impaired absorbing effect ).

Plugin the slimming and beautify device.

Turn on the POWER and the red light will blink.

Press the SONIC button once for the low intensity ( LOW ), twice for the high intensity ( HIGH ).

Use the low intensity on your face, high intensity can be used in other parts of the body such as arms, legs.

Spread the skincare product ( body shape product ) on areas that you wish to apply massage.

Remember to keep your skin moisturized (Note: Gel skincare products are recommended as they are more conductive).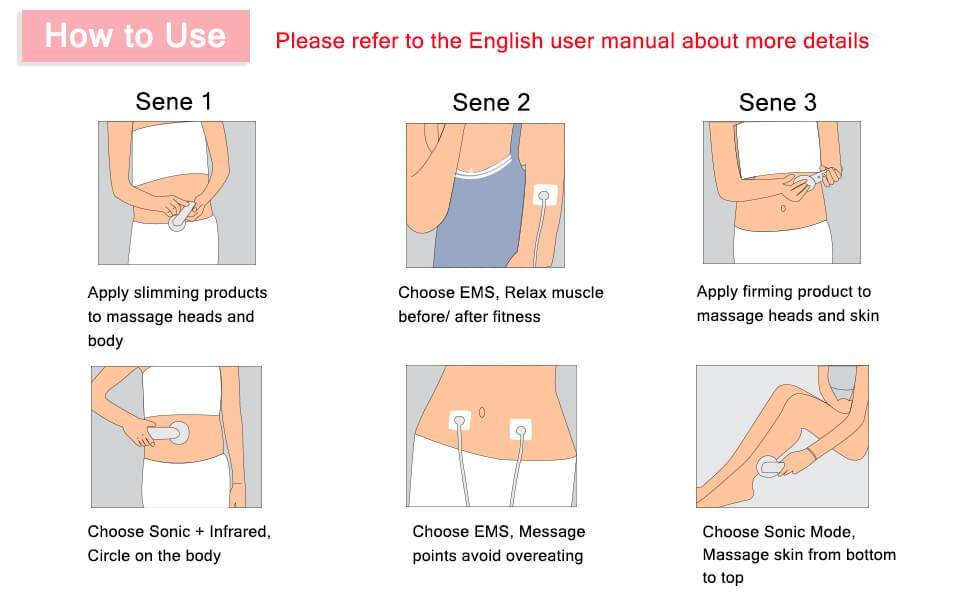 Note:
it can not heat up. only the infrared ray generating part will heat, the ultrasonic massage probe part without the function of heat.
1. After the ultrasonic function is turned on for a few minutes, touch the surface of the massage head without obvious heat. This is proof that the instrument has good performance and the heat loss of the part is low.
2. It uses 10 carbon fibers as a heat source for generating natural infrared rays. The infrared irradiated cells resonate and rub, generating a thermal reaction and accelerating fat decomposition.
EMS mode light not on if press sonic mode.EMS treat with the sticky electrode pads. and no mode if adjust the mode selection key to the bottom, no intensity if adjust the intensity selection key to bottom. please note this.
Sonic mode(no Ems mode this time) do not need the pads.
If you want to regulate secretion and promote fat consumption, you need EMS.
If you want to massage your body to lose weight and skincare, you need Sonic.
It is important for EMS Mode, it will stop working automatically after 10 mins if you want to repeat need turn it on again.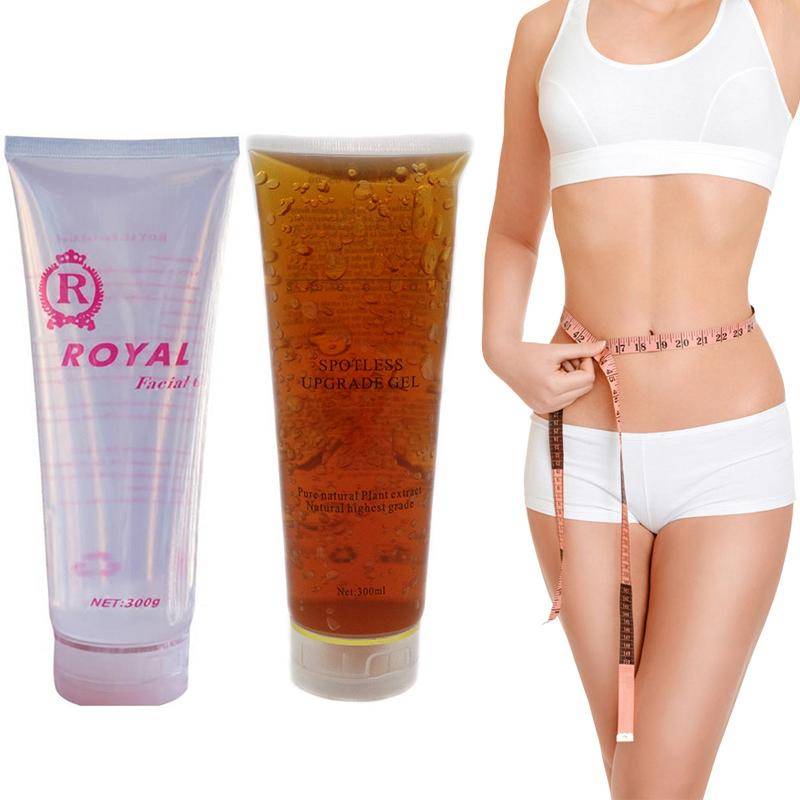 PACKAGE CONTENTS
★ UltraSonic Lift Massager
★ 4 Pads to attach to your skin
★ Power Adapter
★ User Manual
★ Power Cable
Domestic Shipping (UNITED STATES): Your order will be packaged and shipped within 1-2 days of ordering. Keep in mind our items are custom made and shipped from warehouses across the globe which means it may take them 2 to 4 business days to arrive after shipment.
We truly believe our products have made everlasting impacts all over the world and we fully stand by our products. Because you are the reason why we're here today, we want to give you a risk-free 30-day guarantee for all of your purchases. If you don't have a positive experience for any reason, we will do whatever it takes to make sure you are 100% satisfied with your purchase. We have 24/7/365 Ticket and Email Support. Please contact us if you need any sort of help or a friend to talk to :)